Windows Data Recovery Software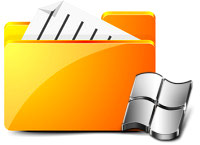 Have you spend hours working on a document when you failed to save document and lost everything you typed due to Power failure?
Windows Data Recovery Software provides genuine solution to all your data loss problems. Windows files retrieval software restores your deleted or corrupted files and folders for hard disk drive partitioned on FAT and NTFS file system.
Data retrieval software reveals data lost due to logically damaged files, Virus/worm attack, bad sector infected hard drives, corrupted or hidden partitions, improper OS installation, emptied recycle bin, using (Shift+ Del) keys, formatted or reformatted hard disk drive, missing drive volumes or any other type of human error. Graphical user interface helps user to understand the features and operations of the software easily.
Key Features
Supported Hard Disk Drives -

IDE, ATA, SATA, EIDE, EIDI, PATA, SCSI etc.

Supported Brands of Hard Drive -

Seagate, Toshiba, Hitachi, Maxtor, Samsung, Western digital, Fujitsu, Conner, Lacie, Acer, Quantum, Iomega, Compaq, Hewlett-Packard etc.

Files Support -

Recovers raw file, compressed and encrypted files.

Supported File System -

FAT, FAT16, FAT32, VFAT, NTFS, NTFS5

Search Modes -

Standard Search, Advance Search